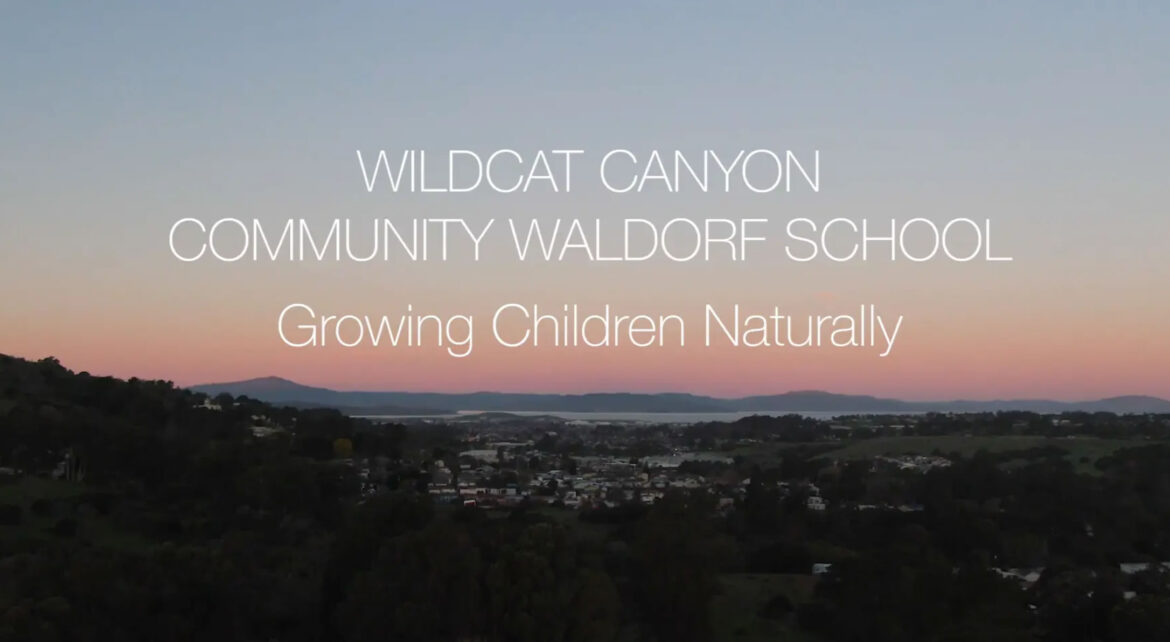 We have been joined together by fate
To unfold powers which will serve good creative work.
Wisdom itself will teach us as we walk on the soul's path
That the greatest things can be achieved
When souls who give each other certainty of spirit
Unite in work toward the healing of the world in good faith.
Dear Community,
It is exciting to send an update about the latest developments at Wildcat Canyon Community School, blossoming from the former East Bay Waldorf School. Parents and teachers have been meeting, discussing, budgeting, deciding, and everyone in the community is invited to join in with any of this activity! It has been a pleasure to come together collectively, and there is a wide range of activities to choose from to be part of the community fabric of the school. Please read further for details of programming, tuition, governance, the next First Sunday work day, and other ways to participate.
NEW SCHOOL, NEW VISION
Alrik Bursell, alumni and filmmaker, together with parent and filmmaker Alvin Lopez and recent alumni Gabriel Studer, produced this beautiful video of the campus and teachers speaking about Waldorf education. Please enjoy and forward widely!
Parents and teachers have embraced the unique opportunity of the closure of EBWS to reimagine the school, based on the structure of the backyard pods that organically and collectively emerged this past school year. Wildcat Canyon Community School is the name for this new initiative blossoming from East Bay Waldorf School. WCCS is a startup, grassroots school drawing its name from the beautiful 91-acre campus adjacent to Wildcat Canyon.
We fully embrace the Waldorf curriculum and aspire to serve as a model for adapting it to 21st century awareness.  With this dedication and a complete restructure of the former school, the new initiative is:
Collectively governed and maintained by parents and teachers
With sliding-scale tuition
Emphasizing land, social, and racial justice in all domains
PROGRAM AND SCHEDULE
The program and schedule are still to be determined, as they are dependent on federal, state, and county health regulations. Afternoon enrichment and subject classes have been organized collectively by each class this year, due to the necessity of keeping pods small and independent. In 4th grade, for example, the main lesson teacher is with the class from 9-12:30, and parents have come together to organize subject classes taught by parents with expertise (cooking, music, soccer) and one teacher hired from outside the class. It is possible that this can continue next year if COVID regulations strictly regulate cohort size.
And as COVID regulations ease it will be possible for classes to share subject teachers and aftercare in a more fluid way. The program will emphasize outdoor education, taking advantage of the beautiful campus to allow classes to meet safely with subject teachers. What is certain is that for grades 1-5, main lesson teachers will be available to be with each class for approximately 4 hours per day, and that as a community we can creatively meet the needs of families. Preschool and kindergarten hours will be similar.
MIDDLE SCHOOL
The Restart Council would like to gauge interest in middle school families returning to campus, exploring the idea of adding middle school classes, enrichment, homeschool support, and any other ways programming can be of assistance to families of children grades six through eight. Please complete this brief survey if you are interested.
TIERED TUITION FOR KINDERGARTEN AND GRADES
Tuition is a way for a community of families to come together and share the cost of operating a school. Many may notice that tuition has dramatically decreased from prior years. The school needs to honor our teachers with living wages, maintain the beautiful campus and tend the land, promote and practice safety and virus awareness, and provide our children with the most robust programming we can. It is also important that families can afford the tuition.
WCCS trusts families to choose their tuition tier. It is expected that each family will authentically contribute all they can afford: the chosen tier should reflect each family's commitment to attending the school and respect each family's financial situation. WCCS will not review personal finances. There are many more ways to give beyond monthly tuition and we look forward to talking more as a community about the different ways we can collaborate generously.
Monthly Tuition Tiers: $800/$1000/$1200
Can you make an additional tax-deductible monthly donation to help support our school?
___$100 Monthly donation covers the cost of art materials for one classroom.
___$200 Monthly donation covers the cost of irrigation for our organic garden.
___$400 Monthly donation covers 50% of the tuition for a family in our community.
One month's tuition is due when the enrollment contract is signed to hold your space.
PRESCHOOL TUITION
Preschool tuition is still to be determined, as it will depend on the cohort size allowed by federal, state, and county health regulations. As these emerge for the fall, the tuition will be determined, as will the schedule and amount of days for each class. Please stay tuned.
COMMUNITY MEETING
There will be a community meeting Wednesday, March 10 at 8pm to answer any further questions you may have about tuition, enrollment, programming, and anything else. Please email questions by Sunday, March 7 to stacey@wildcatcanyon.org. 
WORK DAY
Sunday, March 7 from 10am-3pm will be a community work day on campus. The First Sunday work day in February was very successful, with 30 participants safely working to beautify the campus, and the results were gratifying. The work day in March will focus on general housekeeping, cleaning classroom yards, replenishing sand boxes, tree planting and other landscaping, gutter cleaning, and potentially some painting.
If anyone is willing to come who has the following specialized skills, we can accomplish more! If you have expertise in plumbing, irrigation, electrical, and HVAC and are willing to help on March 7, please email volunteers@wildcatcanyon.org.
Please wear a mask, bring work gloves, your own lunch and water, and any of the following gardening supplies you may have: pruning tools, shovels, bags of compost, rakes, brooms, compostable bags. Hand sanitizer (and an outdoor sink) will be provided.
The Restart Council has discussed various ways of inviting children to be on campus for a work day, but has yet to settle on a plan which would keep children safe and be equitable to all families—those within current pods and homeschooling families—so we are sadly unable to invite children under 12 to this event.
COLLECTIVE GOVERNANCE
Over the past six weeks, parents Gwen Gruesen and Jubilee Daniels facilitated collective development of a system of governance to structure the operations of the school, using the principles of Sociocracy. In Sociocracy, or Dynamic Governance, circles for each domain of the organization interact in non-hierarchical, adaptable feedback loops, with transparent communication, and many levels of participation. Pictured here is a diagram of our governance along with a calendar of circle meetings that has emerged over the course of the six-week intensive. This new structure has already proven flexible and adaptive–it gives those who want to take on a project or aspect of the school's functioning the ownership of that project. Each member of the community can find their niche in the structure, and we are able to make the best use of our collective resources and passions to further the cause of the school. If you have questions, want to find out more about Sociocracy or want to find out more on how you can join a circle please do not hesitate to reach out to gwen@wildcatcanyon.org or join one of the current weekly meetings.
GRATITUDE
Heartfelt gratitude to parents Kevin, Lauren, Rebecca, Dashiell, and Jessica, who are designing, repairing, proofreading, and consulting as a part of the restart before their children have even set foot in the school! Thank you!
Sincerely,
School Restart Council
Alvin Lopez, Beth Rodrigues, Dina Watanabe, Gavin Raders, Gwen Gruesen, Haleh Zandi, Haley Reen, Jessa Moreno, Jessica Martin, John Silliphant, Jubilee Daniels, Loveleen Dhillon, Melanie Hatch, Natalie Studer, Stacey Pelinka, Vika Sirova, Yesley Del Rio-Bursell
Wildcat Canyon Waldorf Facebook Page
Please join our Facebook Page and grow our community there!