Wildcat Canyon Community School provides a life-changing Waldorf-inspired education and is one of the most beneficial investments families can make in their child's formative years.
In a commitment to staying true to our values, Wildcat Canyon Community School (WCCS) structures tuition based on an equitable sharing of resources.
This approach allows families to request a rate of tuition that is in line with their ability to pay. We seek to create a school culture that embraces the understanding that some families pay more while others pay less so that EVERYONE can access an exceptional WCCS education. 
Tuition is our primary means of providing for all of the expenses of the school—from the supplies used in the classrooms to the salaries of our faculty and staff.  We are asking families to make every effort to pay as much tuition as they can, consistent with their commitment to the well-being of our School and their child's education. If meeting any of these Indexed Tuition amounts is a hardship, you can research The BASIC Fund to see if you qualify.  Applications for the BASIC Fund is open for the 2023-2024 Academic School Year.  After acceptances go out, and before signing the contract, there will be a collaborative conversation on how to make the school and family partnership work financially.
2023-2024 Tuition Rates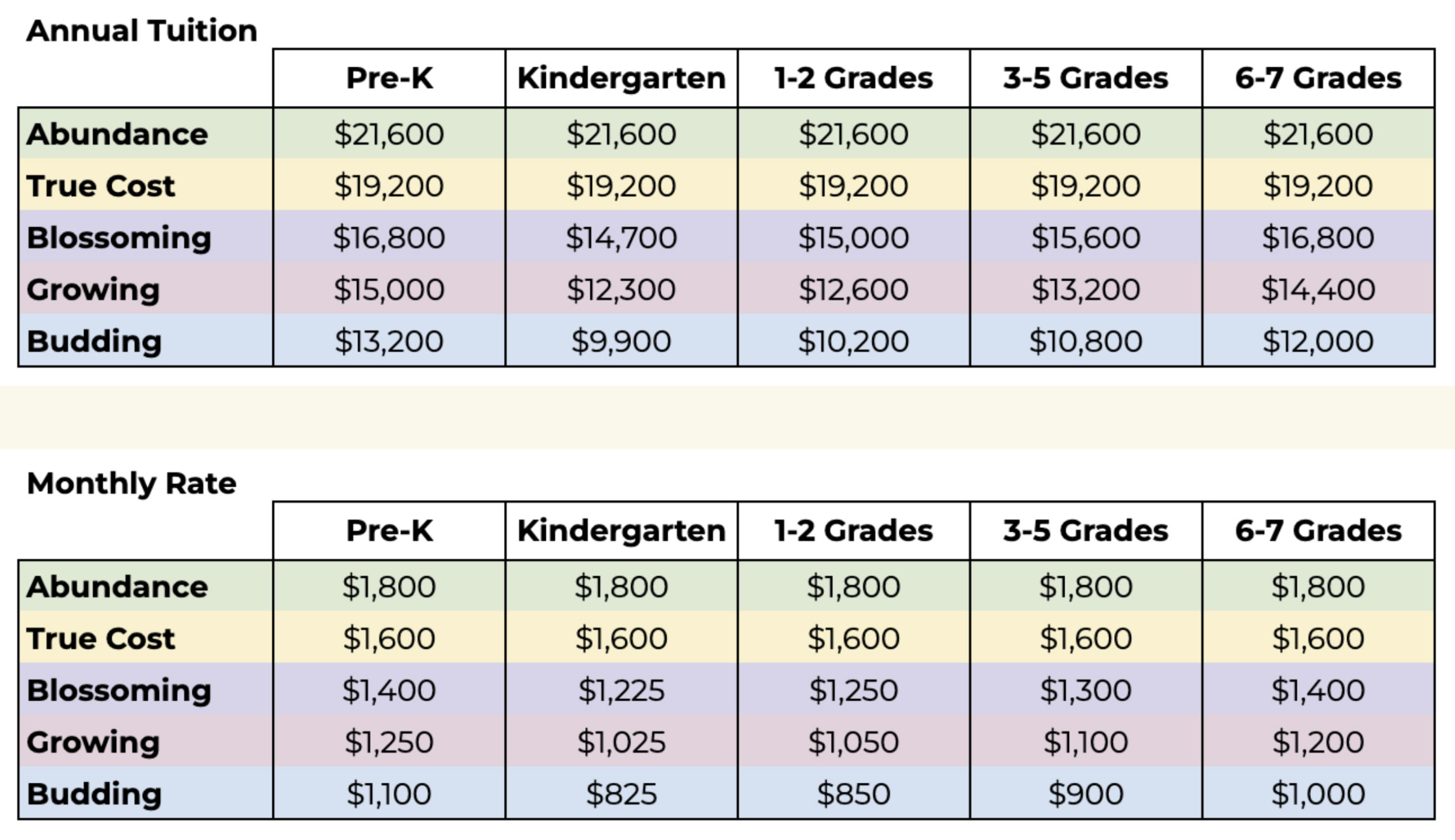 *Monthly tuition is based on a 12-month payment plan.
One month's tuition is due as a non-refundable deposit upon the signing of the enrollment contract. 
This deposit will serve as the last month's tuition (12th payment) of the school year.
The Comprehensive Tuition at WCCS includes:
An exceptional education with exceptional faculty and staff
Multiple special subjects, including art, music, orchestra, Spanish language, movement, handwork, and gardening
A beautiful, natural environment and surroundings
Organic foods in our early childhood programs
High-quality school supplies and artistic materials
Not included in the annual tuition are:
Annual facility fee – $750
Aftercare
Enrichment programs